Why is a headband wig the easiest wig to wear
Most people who are familiar with wigs know that there are different types of wigs, such as lace wigs, U-shaped wigs, headband wigs, etc. While all wigs are good, most of the time we probably want to choose one that is comfortable and convenient to wear. After all, in today's fast-paced life, everyone, especially a professional woman, is super busy, so it's important to save time and look good while wearing a wig. So what is the easiest wig to wear?
The answer is! Headband wigs!
If you've ever searched for a suitable wig, you've probably come across a headband wig. These wigs are the best choice for full-hair wigs. It is quite well known as a time-saver and one of the easiest to wear headband wig.
What is a headband wig?
A headband wig is a wig made of a material similar to a Headband. As their name suggests, the headband was sewn onto a soft wig hat. These wigs are specially designed to be very light, convenient and perfectly suited to wigs. The wig could be wrapped around the head and held in place with a headband, without clips or other fasteners. headband wigs can come in as many styles as standard wigs, but they differ in the number of combs inserted, the softness of the band, the ability of the band to separate, and the width of the band.
As mentioned above, there are several types of headband wigs as well as regular wigs. The headband wig conveys a more realistic style. If you want to give your hair a bit of length and texture without having to do the work of regular wigs, you should go to buy a human hair headband wig.
Why is a headband wig the easiest wig to wear?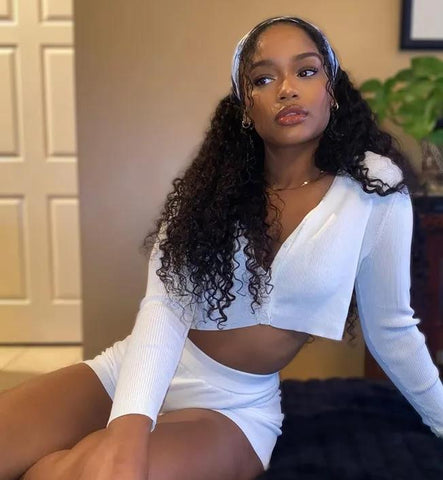 First of all, the wearing steps of headband wig are easy.
It is important to wear a headband wig on a regular basis. The advantage of a headband wig is that it does not require clips, pins or glue to secure the wig. It is very soft and flexible, so it is easy to wear. After wearing headband wigs, we don't feel hot and uncomfortable because they are sweat-resistant and breathable, and they are also very friendly to our scalp. People can wear headbands on special occasions and in everyday life. The only thing you need to do is change the hook/Velcro inside the wig to fit the size of the wearer's head, or simply tie the strap over the head, and you're done.
Secondly, there are many styles of headband wig
With this long andbeautiful hair like headband wig, you can choose any style you like. The easiest and fastest to wear these headband wig offers significant volume and length extension. If you want to make your hair more personal, you can also go for a headband wig. These wigs are great for special occasions and everyday use. The wig's grip fits perfectly, and it has an elastic band that protects the hair behind the ear. The wig will not come off unless the person takes it off himself. A headband wig is more natural than a traditional wig due to the use of open lace. Some of the main characteristics of headband wigs are their long life, affordability and natural beauty. A headband wig works with any type of hair and any texture and covers extensive bald areas to give the wearer the most natural look.
Finally, headband wig is easy to maintain
This type of headband wig has few maintenance steps and is therefore easy to maintain. These headband wigs are very simple and customer-friendly to use with a good-looking look, as there is no lace or glue involved. They are best suited to wigs for novice consumers. In the hustle and bustle of today's life, it takes much less time to put on a wig, saving time and effort. To balance the hairline, we can push the wig a few inches back from the hairline, or we should draw a natural hairline at the hairline of the wig.
The special elastic function of the headband makes the scalp surface extremely soft and comfortable. This soft headband gives elasticity to an excellent connection to the head and prevents excessive hairpiece contact. Without the need for glue, hairpins prevent itchy surfaces. These headband wigs are also best suited for novice consumers because there is no lace or glue involved.
You can choose a suitable headband wig from Loveuwig
Loveuwig provides affordable human hair Headband Wigs, curly Headband Wigs, water wave Headband Wigs, body wave Headband Wigs, and straight human hair headband wigs.
Loveuwig is shopping the most natural, beautiful, and fashionable human hair wigs now. You can also trying some out new wigs, such as African women wigs, Nigerian wigs, headband wigs, lace front wigs can also be very beauty. All Loveuwig curly wigs are made of 100% human hair. You're welcome to try all of them! If you are looking for perfect human hair headband wigs, feel free to vision loveuwig.com.
---