How to hide your long hair in a wig cap?
Wigs are becoming more and more popular because they make it easier for a woman to change her appearance to reflect her personality and increase her attractiveness. However, it may be difficult for beginners to wear a wig if the original hair is too long. Here Loveuwig will give you some tips on how to wear a wig with long hair.
The key question is how to hide your long hair in a wig cap?
If you want to wear a wig, the first thing you need to do is tuck your long hair into the wig cap. Here are three simple and easy ways to stuff long hair into a wig cap.
1.The way to make your hair into braid pleats
First, you have to divide your natural hair into two or more parts depending on the thickness of your hair. If you have thick hair, you can divide it into four parts. If you have thinning hair, you can divide all your hair into two parts.
Second, you push each part behind your ear and divide each part into three parts. Then you can take it apart from the left, put it on the right, and take a piece of hair from the right, put it on the left. Repeat until all the braids are finished, and use some hair bands or small clips to secure them.
The most important thing to do when braiding your hair is not to make it too tight as it will tear your hair and cause pain when wearing a wig. Loose braiding will also protect your scalp.
Finally, you coil the braid around your head and use small hair clips to hold the braid as close to your scalp as possible one by one. After these steps are done, with a little tidied up, you can put on a wig cap and put on a wig and enjoy wearing all kinds of wigs, such as headbands, colored wigs, Bob wigs and more.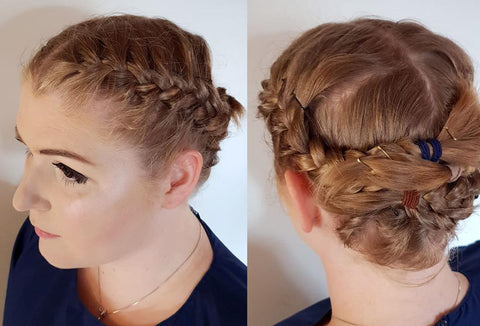 2.The way of a ponytail
First, you can use a headband to tie your natural long hair into a low ponytail, the tighter the better. If you feel uncomfortable, you can lower the ponytail and loosen it until it suits you.
Then pull your low ponytail up over the top of your head and bring the ends of your hair close to your forehead. If you think it's too loose, you can secure it with a small clip.
Finally, you can put a wig cap over your ponytail to hide all your loose hair under the wig cap. If you find that the ponytail is a little bumpy under the wig cap, you can massage your hair to evenly distribute the hair under the wig cap. To be honest, this is my favorite method because it is simple and takes the least time.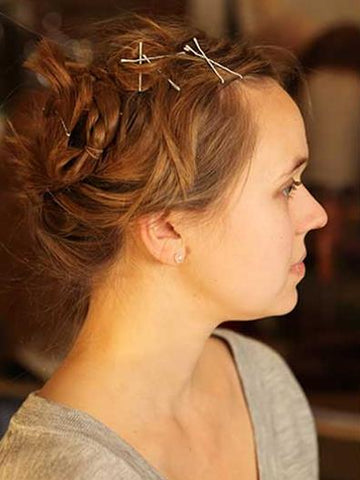 3.The way of cornrows
First, you can use a wide-toothed comb to separate your hair into small rows from front to back.
Second, comb through each small section of hair in one or more rows from the scalp to the back of the neck.
You continue to divide each row into three sections. You can go through the right part under the middle part to make it the middle part, and then go through the left part under the middle part to make it the middle part.
What's more, you'd better add a little hair to each side of the braid. This way, you can wrap the braid around your scalp. After all, if you don't add some hair to each strand, the braids will soon unravel and fall out of the cap of your wig. When you get to the bottom of your scalp, don't forget to add more hair to the braid, and finally, a regular braid will do.
In addition, it is necessary to use the smallest possible headband or clip to hold them in place to prevent them from unraveling or clumping. When you have all your hair in a braid, you can secure each braid with a bun to form a series of neat braids from the front of your head to the back of your hairline.
Finally, try tying several braids together, then wrap them around the back of your head near the base of your scalp and secure them with large bobby pins. If your braids are thick, you can clip them separately, taking care not to overlap to avoid clumps.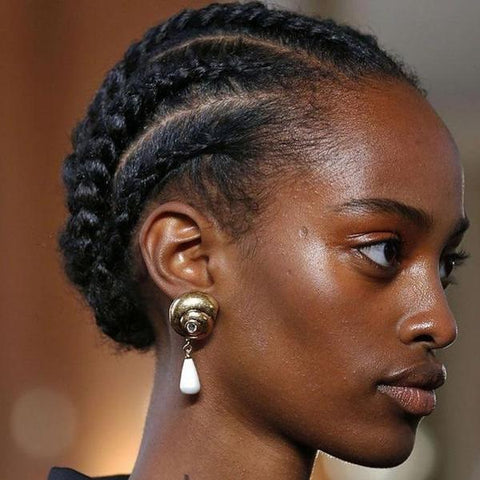 So that's how you can hide long hair in a wig cap. After putting on the wig cap, adjust the hairline and the broken hair, and then gently place the wig on the cap. Whichever method you choose, the next step is to wear a wig cap and then a wig. This will not only protect your natural hair but also help to perfectly hide your long hair.
Choose the perfect human hair wigs from Loveuwig
Loveuwig is shopping the most natural, beautiful, and fashionable human hair wigs now.
You can also trying some out new wigs, such as Long wigs, Bob wigs, African women wigs, Nigerian wigs, headband wigs, lace front wigs can also add to your attractiveness points. All Loveuwig curly wigs are made of 100% human hair. You're welcome to try all of them! If you are looking for perfect human hair wigs, feel free to vision loveuwig.com.
---