Loveuwig highly recommends summer headband wigs for you
In the hot summer, everything around me wants to be "icy." Icy drinks, icy fruits, icy watermelons and more. Of course beauty must also be "icy"! When you are still worried about what kind of wig you should wear when you go out in the summer, let me provide you with the answer. In the summer, most people want to change their hairstyles. If you frequently act on your own hair, it will be extremely harmful to the health of our own hair. In this way, human hair wigs are our must-choice, easily transforming a different self, full of vigor and beauty every day.
Summer recommendation: headband wigs
I like this style of wig very much. It's convenient and fast. With the colorful headband, it can exude a refreshing breath that belongs to summer. Wear a headband wigs to make the whole wig look more natural and beautiful. High-quality human hair headband wigs are naturally comfortable, soft, elastic and shiny. Wearing a headband wig can create a natural hairline just like wearing a headscarf, while adding a fashionable and youthful appearance. So here comes the question: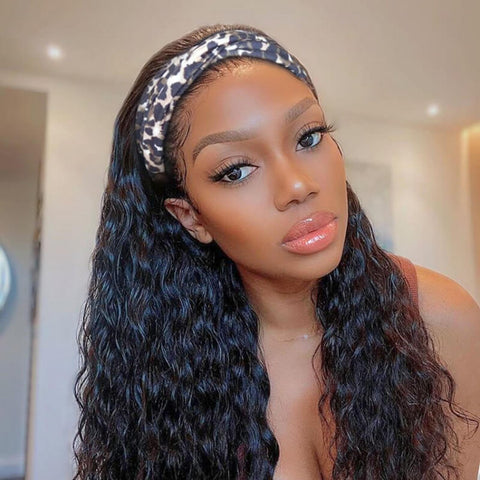 What is a headband wig?
Headband wigs are a combination of wigs and headbands, and then the hair is sewn onto a soft wig cap. They are also called laceless wigs or semi-wigs because they start almost half of your forehead while your natural hair is still in front.
Is the headband wig worth buying?
If you are not good at wearing wigs, headband wigs are a good choice. Not only does it not require any combs, clips or glue, but it also looks more natural than lace wigs. In the early days of the pandemic, it was difficult for people wearing wigs to find high-quality lace wigs.
Can I change the headband at will?
This is the advantage of hair band wigs! You can change the color and style of your headband according to your own preferences, which is very convenient. In addition, for the wig part, you can also change the hairstyle at will, you can tie it in a ponytail or roll it into a bread shape.
How long can I wear a headband wig?
How long your hair can last depends on how you maintain it. Generally, they can last from 6 months to 1 year.
Will wearing a wig prevent hair growth?
No, wearing a wig does not prevent hair growth. However, if the hair under the wig is not properly protected or cared for, it will damage the hair and affect the growth of the hair.
Quality and price of headband wigs
Loveuwig.com provides you with high-quality 100% human hair wigs and has extensive experience in wig export. Loveuwig provides you with human hair wigs, African women's human hair wigs, Nigerian human hair wigs, lace human hair wigs, hair band wigs, etc. to fully meet your needs. If you need it, please feel free to contact us: info@loveuwig.com
---